The Prototype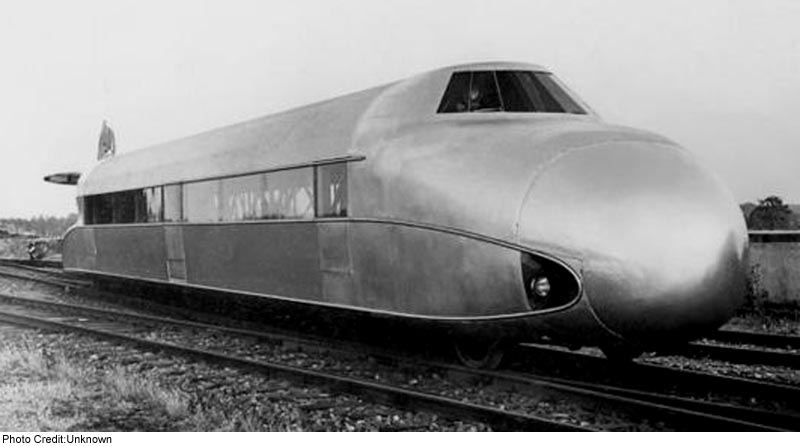 On June 21, 1931, Franz Kruckenberg's Schienenzeppelin (Rail Zeppelin) set a railway speed record that would stand for 20 years! Traveling on a track between Hamburg and Berlin, the prototype high-speed railcar sped along at 230 km per hour for approximately 20 km.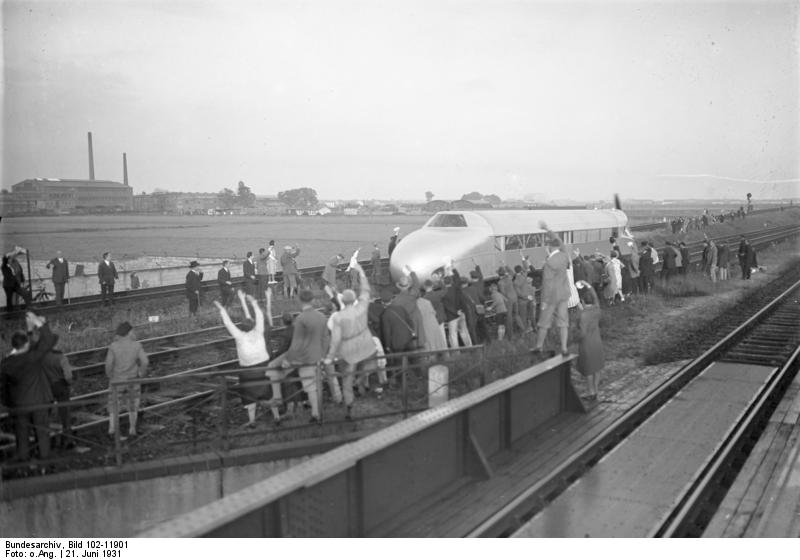 The Rail Zeppelin was never put into production, but it attracted attention wherever it went. A BMW airplane engine was used to power a four-blade wooden propeller that pushed the light-weight railcar through the air. The construction of the body was similar to the then-popular Zeppelin airships and the interior was Spartan; this train was not luxurious.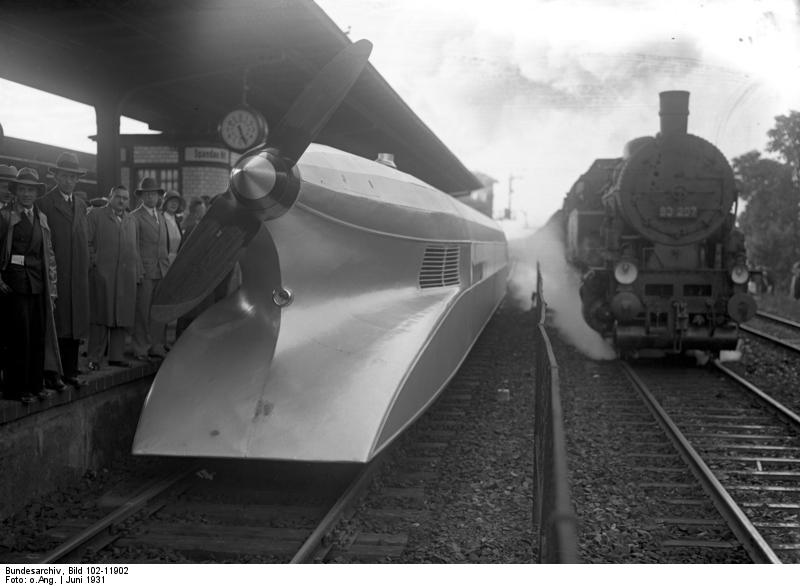 The failure of the Rail Zeppelin has been attributed to everything from the dangers of using an open propeller in crowded railway stations to competition between Kruckenberg's Flugbahngesellschaft company and the Deutsche Reichsbahn's separate efforts to build a "Fliegende Zuege". The Schienenzeppelin was, however, an important part of the evolution of high speed passenger rail transport and continues to attract the attention of railroad fans and hobbyists.

- - - - - - - - - - - - - - - - - - - - - - - - - - - - - - - - - - - - - - - - -
Märklin Rail Zeppelin Models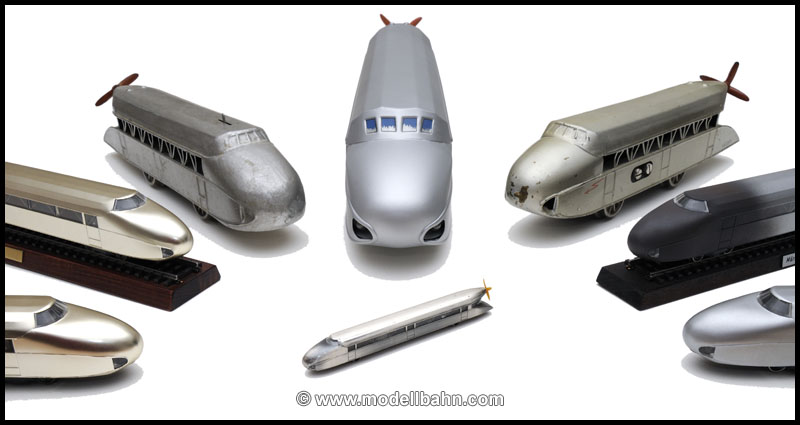 Märklin GmbH, a German company established in 1859, has been making models of the Rail Zeppelin since 1932. The variety includes:


8876 Z-Scale

This is the only Märklin version that is close to the prototypically correct length. The H0 versions are two inches too short and have four axles; modifications that were required to facilitate getting around model railroad curves that are much too sharp for scale.

The 8876 Z-scale version was issued as a one year item in 1982 to commemorate the 10th anniversary of Z-scale model railroading.


88761 Z-Scale

In January 2010, Märklin announced plans to issue another Z-Scale Rail Zeppelin to commemorate the 175th anniversary of railroading in Germany. Production of the unit was delayed until 2012, the 40th anniversary of Z-scale model railroading. Differences between the 2012 and 1982 versions include:

Exterior finish (matte vs. shiny)

Interior details

Latest generation 5-pole drive motor

2011 Nürnberg International Toy Fair Model (Z-Scale)

Märklin distributed a non-motorized version of the 88761 at the Nürnberg International Toy Fair. This model included freely-spinning wheels and a rear propeller, but it did not include see-through windows, interior details, or motors for the drive gear or propeller.


3077 & 8377 H0 Scale

The 3077 was made from 1975 to 1990. Like the Z-scale unit, it has a separate motor to power the propeller while the railcar is propelled by a conventional motor that drives the two front axles. The 8377 was identical except it was made for use on two-rail DC systems (vs. the three-rail system Märklin uses for most of its H0 models).


3477 H0 Scale

The 3477 was issued as a one year item in 1995 to commemorate the 60th anniversary of H0 scale model railroading. It is virtually identical to the 3077, except:

the 3477 has a bright finish and interior details

the 3477 has a Delta circuit that allows it to be used with "conventional" (analog) Märklin systems as well as Digital Märklin systems

the 3477 has a silver-plated two-blade propeller (the 3077 has a plastic four blade propeller)


37777 H0 Scale

In December 2010, Märklin issued an H0 Scale Rail Zeppelin to commemorate the 175th anniversary of railroading in Germany. This model has the 3077's matte finish and the 3477's interior details. It also has an mFX digital decoder, a sound effects generator, and digitally controlled interior lighting and propeller.


SZ970 0-Scale (Clockwork)

The first SZ970 was issued about six months after the real Rail Zeppelin's record speed run. The SZ970 was powered by a clockwork mechanism almost identical to that used in the clockwork cars, planes, and trucks that Märklin sells today. The SZ970 was sold first sold with a two blade propeller and then with a four blade propeller. Photos of the prototype suggest both types of propeller were used in Kruckenberg's test runs.


SZ12970 0-Scale (Electric)

The SZ12970 is almost identical to the SZ970, except that it is powered by an electric motor. It's likely that it was also first sold with a two-blade prop and then with a four-blade prop. The four-blade prop unit also had a red light on the rear of the train.


SZ12971 1-Scale (Electric)

We haven't been able to find much information on this model, but there is one on display in Märklin's museum in Göppingen, Germany. It's a little more to scale than the 0-gauge unit, which is very stubby looking. This model may also have been sold as a clockwork unit, but we haven't seen one.

16075 1-Scale (Electric)

A replica of the SZ12971 was issued as a limited production item in 2006. The replica, identified as catalog number 16075, has the same external appearance as the SZ12971 but the internal components have been updated to include a digital decoder and to allow for two-rail operation. (Click here for more information.)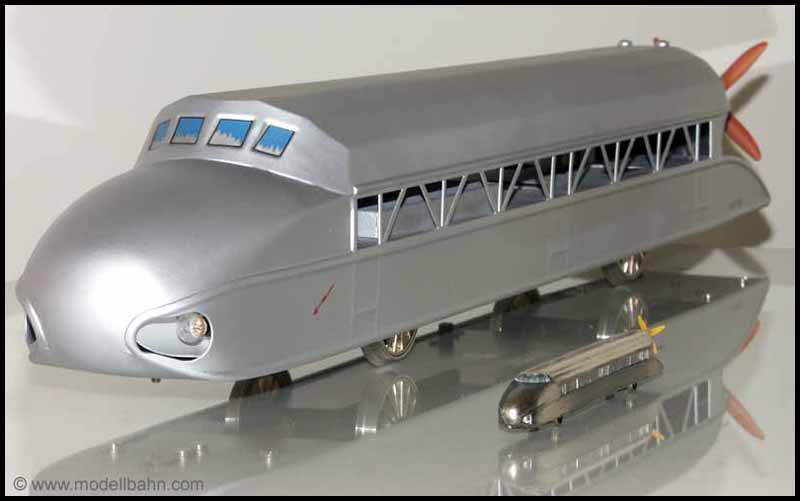 Märklin 16075 (1-Scale) & 8876 (Z-Scale) Rail Zeppelins
- - - - - - - - - - - - - - - - - - - - - - - - - - - - - - - - - - - - - - - - -
Collection of Rail Zeppelin Models



Back Row:
Märklin 16075 - Replica of SZ12971 (1-Scale)
Märklin SZ970 - Clockwork (0-Scale)

Middle Row:
Märklin SZ971 - Electric (0-Scale)
Märklin 3477 (H0 Scale)

Front Row:
Märklin 3077.82701 - Limited Issue Weathered Version of 3077 (H0 Scale)
KATO/Hobbytrain 2621 (N-Scale)
Märklin 3077 (H0 Scale)
Märklin 8876 (Z-Scale)
Märklin 3477.99701 - Limited Issue Museum/Treff Version of 3477 (H0 Scale)


- - - - - - - - - - - - - - - - - - - - - - - - - - - - - - - - - - - - - - - - -

Links to Rail Zeppelin Videos

YouTube has videos showing the prototype Rail Zeppelin as well as an interesting Kraftwerk music video that combines footage of the prototype and the Marklin 3077 HO-scale model:

Click here for link to video of original Rail Zeppelin in action!


Click here for link to Kraftwerk music video. (link repaired 30 Jan 2011)

- - - - - - - - - - - - - - - - - - - - - - - - - - - - - - - - - - - - - - - - -
Zeppelin Airship Tours
Zeppelin NT, a Neue Technologie (new technology) Zeppelin is manufactured by Zeppelin Luftschifftechnik GmbH (ZLT) in Friedrichshafen, Germany. Zeppelin NTs are now in commercial service in Europe and the United States. Click on the graphics for more information.